Making gene therapy vectors more specific is a major challenge in gene therapy. Edith Renaud-Gabardos, under the direction of Ana Buj-Bello, an Inserm Research Director, and several other Genethon collaborators, co-authored a publication in Science Advances demonstrating the optimized effectiveness of two capsids for muscle treatment.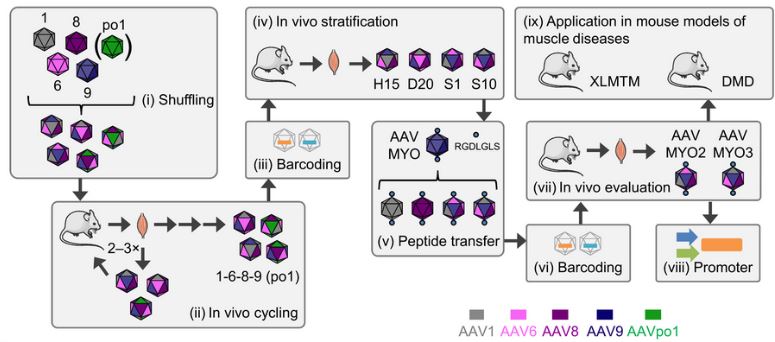 This is a major challenge for gene therapy: developing increasingly specific vectors, which will allow the treatment to penetrate mainly into the cells of the diseased organ and not into the whole body. This was the goal of the European MYOCURE program, which obtained H2020 funding and in which several Genethon teams participated, including Edith Renaud-Gabardos, co-first author of the article.
"This program brings together German, Belgian, British, Spanish and French teams," explains the researcher, who officiates in the Neuromuscular diseases and gene therapy team. Dirk Grimm's team, in Germany, identified two capsids that seemed to target the muscle better while avoiding other organs."
With her colleagues, Edith Renaud-Gabardos' role consisted in demonstrating the efficacy of these capsids in a mouse model of myotubular myopathy. She succeeded in showing that the vectors were directed more efficiently and more specifically towards the muscles. As a result, they were also less likely to go to other organs. Another team performed the same demonstration for mice with Duchenne muscular dystrophy. The Genethon Immunology and Liver Diseases team studied the seroprevalence of these capsids, equivalent to that of other commonly used AAV vectors. Finally, Genethon's Bioprocessing teams have developed the production of new capsids necessary for these studies.
The conclusions of this H2020 program offer an encouraging perspective: "The more specific vectors have multiple advantages, underlines Edith Renaud-Gabardos. Above all, they make it possible to limit the side effects since smaller quantities of products are necessary and the diseased muscles preferentially receive the treatment." Another advantage: the quantity of treatment to be produced is therefore much less, which represents both a saving in time and a reduction in production costs. Two essential data to facilitate the development of these gene therapy treatments.
Find out more
Jihad El Andari*, Edith Renaud-Gabardos*, Warut Tulalamba, Jonas Weinmann, Louise Mangin, Quang Hong Pham, Susanne Hille, Antonette Bennett, Esther Attebi, Emanuele Bourges, Christian Leborgne, Nicolas Guerchet, Julia Fakhiri, Chiara Krämer, Ellen Wiedtke, Robert McKenna, Laurence Guianvarc'h, Magali Toueille, Giuseppe Ronzitti, Matthias Hebben, Federico Mingozzi, Thierry VandenDriessche, Mavis Agbandje-McKenna, Oliver J. Müller, Marinee K. Chuah, Ana Buj-Bello*, Dirk Grimm*, Sept. 2022, "Semirational bioengineering of AAV vectors with increased potency and specificity for systemic gene therapy of muscle disorders", Science Advances,  vol. 8, Issue 38
*co-first and co-last authors