Limb girdle muscular dystrophies, rare diseases of the liver or production of vectors on a large scale: these are some of the topics presented by Genethon's teams at the annual meeting of the American Society for Gene and Cell Therapy (ASGCT), to be held virtually from May 11 to 14.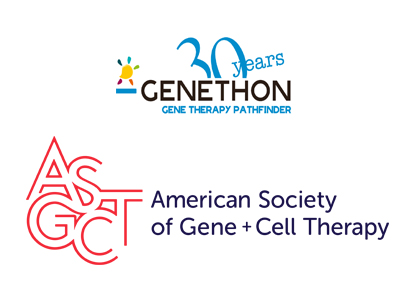 The annual meeting of the ASGCT is an opportunity to review the progress made in the fields of gene therapy and cellular therapy. Employees of Genethon – a pioneer and leader in gene therapy for rare diseases – share the latest results from their work. See the 2021 schedule of Genethon's presentations and posters.
ASGCT: Genethon's oral presentations
Giuseppe Ronzitti, manager of the "Liver gene transfer and immune tolerance" laboratory, will present results concerning X-linked hypophosphatemia. This disease is characterized by excessive loss of phosphate in the urine, leading to disorders of the skeleton, muscles and teeth.
Giuseppe Ronzitti's team managed to demonstrate in mouse models that the use of targeted AAV gene therapy on the liver, inhibiting a signaling pathway for the FGF23 protein involved in this pathology, reduced problems in the bone, after a single injection.
AAV Liver Gene Therapy-Mediated Inhibition of FGF23 Signaling as a Therapeutic Strategy for X-linked Hypophosphatemia
When? Tuesday May 11 at 6.15 PM (US Eastern Time)
Isabelle Richard, Head of the Progressive Muscular Dystrophies Laboratory, will present results of research in limb girdle muscular dystrophy LGMD-R9.
This disease is caused by anomalies in the gene coding the FKRP protein. This FKRP protein contributes to the stability and resistance of the muscle fibers. Isabelle Richard's team managed to demonstrate the effectiveness of a gene therapy treatment, using an AAV vector to provide the non-mutated FKRP gene. The treatment is effective at reduced doses, in relation to those used for other neuromuscular diseases. These promising results will be useful in establishing the doses to be used in upcoming trials.
Unprecedented Low Dose of AAV-Mediated Gene Transfer Corrects the Pathology in a Model for Fukutin-Related-Protein Deficiencies
When? Friday May 14 at 1:00pm (US Eastern time)
Anne Galy, head of the Immunology and Biotherapies laboratory, and Patrick Santambien, Technological Development Director, will hold an "Education" session to discuss the scientific and technological challenges related to large-scale production of AAV and lentiviral vectors.
Large scale production of AAV and lentiviral vectors
When? Thursday May 13 at 10:00am (US Eastern time)
ASGCT: Genethon's posters
Gaelle Chauveau, from the Immunology and Biotherapies team, supervised by Sylvain Fisson, will present a poster detailing a new antigen-specific immunosuppression strategy, aiming to mitigate the inflammatory response triggered by certain ocular gene therapy treatments with AAV in the context of hereditary retinal pathologies.
Sub-retinal injection of AAV causes an inflammatory response, in a dose-dependent manner, that could lead to activation of T-cells specific to the transgene and/or the AAV vector. This immune response is suspected to be detrimental in certain clinical trials. The team managed to demonstrate that by injecting the AAV vector under the retina and peptides from the transgene at the same time, the immune response can be controlled, without the many side effects of non-specific immunosuppressing drugs that are traditionally used in a clinical setting.
Systemic Anti-Transgene T-Cell Immune Response Induced by Subretinal AAV Gene Transfer Can Be Inhibited by a Simultaneous Co-Injection of Peptides from the Transgene Product in Pathophysiological Conditions
When? Tuesday May 11 at 8 AM (US eastern time)
Louisa Jauze, post-doctoral fellow in the "Liver gene transfer and immune tolerance" laboratory, will present a poster on her research to improve the effectiveness of gene therapy in hepatic glycogen storage diseases.
To increase the effect of gene therapy, she compares the effectiveness of two promoters, that aim to help the gene express itself in the hepatocytes affected by the disease.
Liver-Directed AAV Gene Transfer for Glycogen Storage Disease Type IA
When? Tuesday May 11 at 8:00am (USA Eastern time)
ASGCT: Genethon's contributions
Several projects to which Genethon employees have contributed will also be presented.
When? Tuesday May 11 at 8:00am (USA Eastern time)
When? Tuesday May 11 at 8:00am (USA Eastern time)
When? Friday May 14 at 1:00pm (USA Eastern time)