To mark International Rare Disease Day, Genethon identifies the most urgent priorities in overcoming these obstacles.
Worldwide, 300 million people are affected by a rare disease. For Rare Disease Day, Genethon, a major player in therapeutic innovation for rare diseases, recalls the challenges to be met in order to realize the hope of patients awaiting treatment.
While therapeutic successes are multiplying, demonstrating the full relevance of this breakthrough technology, the development of gene therapy for rare diseases is currently coming up against scientific, technological, clinical, economic and financial obstacles, which jeopardizes making it available to as many people as possible.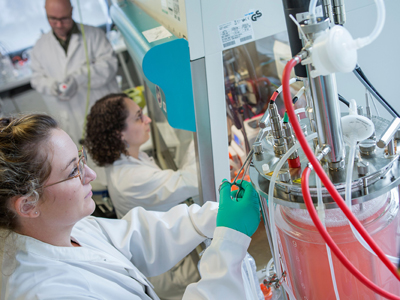 Thus, for Genethon, it is urgent to act on several levels.
>> Invest massively in innovation to continue to improve vectors and bioproduction processes. The objective is to produce better, faster and in greater quantities, which will also have the effect of lowering costs. Thanks to its dedicated team of 35 experts and its privileged partnership with Yposkesi, Genethon has all the assets to quickly obtain results.
>> Change regulations for clinical trials and product registration to optimize development costs for rare diseases.
>> Create, for ultra-rare diseases, which have no commercial model, an innovative model of public-private cooperation between pharmaceutical companies, non-profit laboratories and public institutions, to finance the development of innovations therapies and make it possible to offer these treatments to sick people.
"Meeting these challenges is a major challenge for medicine, well beyond rare diseases. We can all emerge as winners: the expertise developed is a real wealth, which could benefit more frequent diseases, as is already the case for certain cancers and, in the near future, for neurodegenerative diseases", Frédéric Revah, CEO of Genethon, concludes.