Recently promoted to legal manager at Genethon, Justine Klonowski plays a key role in the development of contracts between Genethon and its partners. She says she is proud to be part of the work of this atypical lab.
From the world of media to the health sector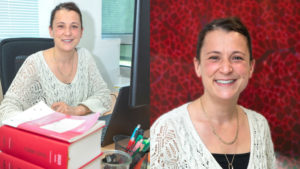 "I am first and foremost a lawyer specializing in intellectual property," explains Justine. It is in fact the major of her Master 2 in Law obtained in 2010. After her final student internship at Mondadori France, she did two other internships at L'Équipe 24/24 and Wagram Music. "I started out with an interest in literary and artistic property, and then I realized it wasn't fulfilling for me." Justine then turned to industrial property, and it was somewhat by chance that she joined the health sector, remembering a university friend who was interested in this field.
She first joined the valuation branch of the Institut Gustave Roussy as a junior lawyer and worked there for 6 years. As the branch's sole lawyer, Justine was eager for a change. She was contacted by a headhunter and joined Genethon in 2018: "It was an ideal transition because I was able to get away from a purely academic environment, without joining a large pharmaceutical company."
A daily life punctuated by contracts
Nearly 80% of Justine's work consists of managing the implementation of all kinds of contracts between Genethon and a multitude of players, from global biotechs to more traditional service providers, including public institutions. "The most interesting ones are obviously the key contracts with high risks for intellectual property," she confides. From the analysis of the internal client's needs to the follow-up of the contract after its approval, Justine ensures that the project is consistent with Genethon's strategy and interests.
The remaining 20% of her time is dedicated to various activities:
"I am involved in the structuring of the legal department, and in particular I was appointed project manager for the implementation of a contracts software program, which is now routinely used at Genethon, allowing the electronic approval of contracts, and the recording of multiple items of data related to them." Justine insists on the need to develop tools and best practices to improve effectiveness.
"Similarly, following new legislation I have to make the teams concerned at Genethon aware of the latest measures," explains Justine, "for example, with the GDPR (General Data Protection Regulation) having to be implemented at Genethon in close collaboration with the AFM."
"I would say that raising awareness of the challenges of the legal department among the personnel working at Genethon (especially the scientists) also involves the presentation of a multitude of subjects," explains Justine, giving as a recent example a presentation she prepared on the risks of Patent Co-Ownership Agreements.
Justine provides the legal assistance necessary for the smooth running and success of the valuation projects undertaken by the Business Development team. "I sometimes work with law firms that support us on large-scale cases," says Justine.
"For example, I had the opportunity to participate in the creation of a biotech company (Atamyo Therapeutics) working on progressive muscular dystrophies (LGMDs), requiring multiple actions on my part regarding legal support for the creation of the structure, for the transfer of activities, and also for the negotiation and signing of several contracts (service provision, collaboration and licenses)."
It is therefore the diversity of her profession that appeals to Justine: "I like this Swiss Army knife aspect, the projects are interesting and varied. Since I have been a legal manager, I have more responsibility and greater expertise than when I was a lawyer." In fact, the organization of Genethon's legal team allows its members to participate in a wide variety of projects, to learn a multitude of things and so evolve… "My goal is to be ever more relevant, ever more useful," she says.
"The patient comes first"
Justine is proud to be part of the Genethon adventure: "I feel I am contributing to the overall mission of the association. I am drawn to the history of the laboratory, which was founded by a patient association, and the work of the Genethon teams is amazing." Within the legal department, her professional expectations are met: "There is a real synergy between the members of the department. The team is efficient and pleasant, with a good work dynamic. Progress is valued and rewarded, it's very fulfilling."
Find out more